welcome to the big easy, a real life site based in the vibrant city of new orleans. please register your character's first and last name using uppercase letters. the skin is best viewed in chrome with the use of an ad blocker.
welcome
new orleans, louisiana
august 30th
hop in the posting contest
here
!!
july 15th nano and the event have been closed! congratulations to air for having the most points in the contest!
updates
subtitle format
## ● occupation/grade/major ● alias

post your reply on the other person's shipper, not your own
Twists And Turns Of Fate
, 25 ● trauma nurse ● ashley
in a relationship
with caroline dawson
This is my reformed troublemaker. Seriously. Growing up in nasville and then los angeles, tim was a troublemaker. Tagging building, getting in fights, underage drinking…he's been arrested for each of them. A lot of that was due to his mom literally abandoning him. See, tim's mom put the baby boy on the doorstep of his biological father. Needless to say, the woman hadn't been in his life until he accidentally found her while trying to find her(i know, complicated) and also found out he had a twin sister, josephine.
New Orleans was the new start for tim. One, it's where he was born and two, when he moved here he originally planned to find his birth mother. Instead he focused on his studies. He thought about going for his bachelors degree but finally settled with his associates degree, which gives him all the same chances except at management. Tim works hard, which surprises some people when they find out he had a privileged upbringing. His dad is a music producer for universal while pops-his father's husband-is an architect.
Tim has grown up in the music industry so celebrity gossip rolls off his shoulders. In fact, he's not a big gossip at all. To him it's not "normal". tim is all about living a normal life. For the first couple of years he was sober, he over thought everything to try to do things that normal, less angry people do. Music has really helped with that. Tim learned how to play bass guitar and drums, having taught himself, in order to channel a lot of his frustrations with being abandoned by his mother. he still plays but he's currently open to exploring other hobbies as well.
In general, not a lot of people know about his connections to a grammy award winning producer father and his equally famous brother-in-law. He's afraid of people asking him who he knows. So when people do find out, he's had reactions from awe to people not believing him. Tim finds a lot of amusement out of that. Because of this tendency to keep secrets, people have thought he was mysterious when really he just struggles with the right balance of what to tell and what to hold back. currently he's working towards becoming a flight nurse, has taken up gardening, and is starting to blossom into more than just the friendly guy who bows to what everyone else is doing.
friends
anyone! Everyone! He's not discriminatory so no worries there. Though if you make a comment about his dads he will tell you what he thinks about you. since leaving los angeles, tim has been doing really well to keep things together for himself. he really doesn't want to move away from the path of keeping a level head. people are welcome to try for a bit of drama but he's got a lot of reasons to keep a steady pace forward with his life.
lovers
tim used to be big with one night stands in los angeles but since he moved ot new Orleans, that part of himself tampered down. Now he's a relationship guy. In fact, tim is in a relationship and very happy in it. Really, he is gaga for his girlfriend and won't stray from her.
enemies
if you are a bigot in any way, he hates you immediately. He has a bit of a temper that comes out when the right buttons are pushed. I don't think he's had any major drag down fights with anyone in new orleans. However it is easy to be considered an enemy to tim and it's hard to come back from that.
ainsley evans: best female friend
Craig walker: works with his dads, friendly to
Caroline Dawson: girlfriend, in love with
Brent Jacobson: brother-in-law, friends
dawn huellet: strained friendship, weary of
donatello de luca: coworker, friendly
Evan King: friendly
Hakim Kouri : friendly
ian carmichael: coworker, budding friendship
Jeffrey Phillips: friendly
Josephine Jacobson: long lost twin
Noelle Williams: friendly
remington pierce: coworker, friend
Sierra Anderson: cousin, close to
Spencer Ellis: friendly
sierra

meet sierra anderson born and raised in new orleans, she is twenty-four years old and graduated with a bs in nursing. she now works full-time at the tulane medical center, and throughout the week she'll teach a couple dance classes part time. as a child, sierra was heavily involved in pageants, dance and gymnastics. when she entered high school, that was when sierra became serious about her pageants and entered annually to be part of the miss teen usa organization. it wasn't until her junior year did she actually win the full competition. the best thing about this competition was that it paid her way through college. while it seemed like sierra had it all, girls were still girls, and jealousy got the best of those around her. a lot of girls left remarks on her instant fame anonymously on the internet or in the hallways at school. life for sierra in high school became tough, but she didn't give up. after high school and after going on to win miss louisiana, sierra took a stand against bullying and created a foundation to raise bullying awareness. with the help of miss america foundation, she is still able to participate in this growing organization. while in college, sierra received news that her mother had an early diagnosis of alzheimer's, and in june of 2015, sierra's father was killed in the bombing at the mall in nola. she is trying to pick up the pieces and move forward with her life.

---

timmy tim. okay, sierra loves her cousin SO MUCH. it's insane how much she loves him. she adores him and respects him and he's like the number one guy in her life. he's more like a brother combined best friend than just her cousin. for a while he had been a myth pretty much, but upon his arrival to new orleans these two have clicked and i love it! they bring out the best in each other. she has opened up to him a lot, even about her mother's alzhiemer's (only tim and his family still know about that). he's been there for her. during her father's death (and even tho sierra can't) she wants to repay him. WHAT DOES TIM WANT TO DO? anything?? SOMETHING HE WOULDN'T NORMALLY DO ON HIS OWN. something exciting. give me ideas because him and Sierra are gonna do it. bonus: if it's something that will freak her out ahahaha.
caroline loves tim. she thinks the world of him and thinks that he is the best thing in her world. she imagines a future with him. she never takes off his bracelet. he is the best thing to happen to her since coming home after her father's heart attack.
EVAN KING & TIM
evan is twenty-three and a new orleans native. he is the bassist in a very well known band called the jetsons and also child stuck in a man's body. he likes to have fun, likes to make people laugh, stuff like that. he doesn't take life too seriously? he probably should, but he just doesn't. thinks life is too short for all of that! evan is incredibly friendly and doesn't exactly meet a stranger. he's a people person until he has been given a reason not to be, and he becomes a little bit like the hulk if you mess with his friends and family. all in all though he's really just a down to earth, fun, and funny dude to be around!



we've only done them a time or two but i enjoyed? evan pays a lot of attention to tim because he and care are so serious, and he thinks of her like his own sister. he was supremely weirded out by the whole seduces-best-friend-of-long-lost-twin-married-to-famous-rich-man thing, and tbh sometimes he still thinks it's fucked up and weird, but it is what it is and he has long since abandoned the idea that tim might be trying to take advantage of something where jo or care are concerned. he likes the dude.
NOELLE WILLIAMS + TIM
okay so yes i mostly agree. it's such a big thing to noelle? like she doesn't even know how to confront that or what to do with it that she could have died and this guy saved her life. obviously she's grateful for that - more grateful than she knows how to express. the thing is that noelle tends not to deal with things that make her uncomfortable or scared, so she just...doesn't. ignores lmao. she has tried to leave that day in the past but that doesn't mean she has forgotten what tim did or anything. like this guy is always going to be able to count on her for anything. she literally owes her life to him. it's just bumping her past seeing him as that guy maybe? they just need to hang out more. i don't know if noelle would seek him out but come on he's dating care and brother to jo. i'm sure they're around each other enough that we can do some things with them within that until we don't need that scenario?
craig & tim
greg and craig. that's awesome. my dad works regularly with two guys named greg and craig and you would not believe how long it took for me to realize they were two different guys with two different names. but i do like that idea! we always meant to plot tim and craig somehow anyway so this would be a good lead-in.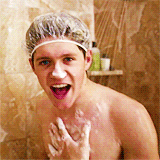 spencer + tim
i think spencer would be alright with tim! he probably wouldn't be like HEY BRO with him, but i don't think he'd have any reason to dislike him or anything. i think spencer knows enough to tell when someone's uncomfortable and he probably wouldn't push a friendship on him if he wasn't chill with him just yet. i think they could be friends after a while, though!
tim + marnie
this is marnie, and she's two years fresh to new orleans. originally she's from jacksonvile, florida, but her and her husband moved/transferred here after they figured out they were pregnant. their families didn't exactly see eye-to-eye with the fact that the two were in their early twenties, not married, and starting their family. they didn't want to raise their son around that energy so moving a couple states away to start their lives together was what happened to be the best thing for their little family. her husband got to transfer his job, and she got to transfer stores. she's a licensed beautician/cosmetologist, and practices at the popular chain.
---
i am fairly certain these two would know one another through his twin jo because the pair moved into a house across the street from brent and jo, two years ago. they both shared their pregnancy journey's together and you guessed it became a best pair of mommy friends. jo was a big blessing in marnie's life, so what comes along with it is her beautiful family. i was thinking they've interacted through jo. them discovering they were twins was still a relatively new at the point of marnie coming into the picture, so while she'd never interject herself int a situation as touchy as that, but she'd be around to bond. i can see them sort of blend together nicely and develop a positive little relationship themselves. motherhood, has just brought it out of her even more, but she's always been this compassionate and nurturing individual, so transitioning into a more positive lifestyle, i think she might have been a good energy for him to be around? dinners with all seven of them or if he just wanted to come hang out with marnie and her husband, he'd be more than welcomed.

in addition to my messy explanation that i probably overdid a little...i can see her also being a pain in his side. i'm not saying for every incident she's going to take jax to the ER, but i can see her there quite a bit or sending him a text message about this or that. motherhood know's no chill, but it'd be reassuring to her. a blessing and a curse. sorry this isn't the best, but feel free to add or scratch.
tim + marnie
but of course! and marnie loves cooking so either way is ace! and i'm sure just as well jax would enjoy him. what baby doesn't love attention?

while marnie knows he's just a nurse there she would probably still bother him just because being paranoid! it's all probably false alarms like a tone of the time and her freaking out over nothing, but she'd still appreciate it! and food could come into play, so everything comes around full circle! i think they'll be sweet <3
REMY + TIM
remy is twenty-five years old, a georgia transplant, and a current student at tulane. she is in her final year of medical school and has already been accepted into a residency program with tulane medical center for 2017. remy works her ass off to keep high grades because she's competetive - she wants to be the best at what she does. when she's not busy studying, at the hospital, or in class though, she might be found at the gentleman's club. she dances on the side to make ends meet, though this is a private and guarded part of her life. remy is personable and friendly, and she really has a good heart. she's just also a tiny bit deceitful, because the truth is that she would rather be a liar than dependent on someone else.
sooo remy is going into her last year of med school, and she has her sights set on being a cardio surgeon or maaaybe an emergency medical doctor or whatever that's called? i imagine she has been at the hospital a lot (since it's a teaching hospital) and will be there even more frequently since it's her final year. i assume they could/maybe have met there? remy is a pretty easy person to get along with and stuff, and she takes an immediate interest to anyone with a connection to the medical field tbh haha
REMY + TIM
remy is twenty-six years old, a georgia transplant, and a current resident intern at tulane. she is in her first year with the hospital. remy works her ass off to keep in the good graces of the people around her because she's competetive and determined to do a good job - she wants to be the best at what she does. when she's not busy at the hospital, she
is
a bit of a homebody. she'll go out with friends for coffee or drinks, but she never really hits the party scene. remy danced her way through medical school on the side to make ends meet, though this is a private and guarded part of her life. she is personable and friendly, and she really has a good heart. she's just also a tiny bit deceitful, because the truth is that she would rather be a liar than dependent on someone else.
i wanted to let you know that i've made some adjustments to remy. i've aged her up a year, put her in her first year of residency at tulane as opposed to her final year of medical school, and put the dancing in the past! it probably wouldn't affect any of our plots, but i just wanted to keep anyone who plotted with her in the loop!
drew

meet drew lexington, he is an twenty-five born and raised. most people know drew growing up as the kid who had a crazy mother or the kid who was in special ed. his learning disabilities frustrated him because he knew he was different. this was how drew got into fighting. to let out some anger about how he did not want to be crazy like his mother, and how he just needed an escape. he started wrestling and even fought in the state championship. a drunken fight later cause that title to be snatched from him. the only good title he has ever had in his life, honestly. he is a bit impulsive and doesn't think before he speaks. he is friendly enough. he loves his dog more than a lot of things (though, he'll never admit to it), and he is extremely protective over his family. you'll probably spot him working thirds at a gas station in town if you're traveling late. if not, then you won't see him unless you see him street fighting (lol that's a new thing for him ok). so, throw me your ideas plzz!

---

hiii dear. i'm bringing drew here bc tim will probably be seeing his look-a-like a lot around the hospital. probably even drew. im thinking of making him a tech in the hospital eventually so that could be fun to toy with in the future. i think it just depends on the "damon" (twin) when he gets made. drew can be a bit impulsive so he doesn't listen to others well, but i think that'd be their only real problem. and drew would get over it soon enough. he is pretty friendly.
Rio
fire
graphic artist
single
Short and sweet, yes!!! Really good friends from back in LA and now they're both in New Orleans they can actually hang out again. I do see them having been texting and talking online keeping in touch. So yes, friends!!!!